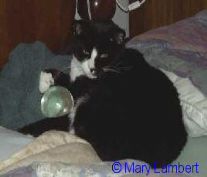 Pitre The Original Crystal Cat
Peanut - AKA Security Officer
Congo Smoky Citrine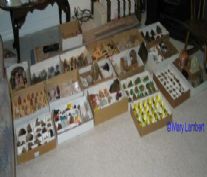 Goodies from a shopping trip
The Sphere that started it all
Smoky & Garnet
The Other Side of the Sun is owned and operated by Mary Lambert & Jennifer Evans. We are both Crystal Intuitives and Reiki Masters trained in multiple lineages. We are also Licensed Massage Therapist and Skin Care Specialists. We have worked intimately with crystals and their healing energy for more than a decade. Crystals are our passion. As such, we treat each crystal as an individual spirit, which is why we insist on individual listings for all of our crystal offerings. We care deeply for the crystals, ensuring that we nurture them while they are entrusted to our guardianship. More than one satisfied customer has told us that we really run a crystal adoption agency rather than a retail store.

We strive to offer a variety of amazing natural and polished minerals and crystals from around the world. Whether you are new to crystal energies or an experienced crystal guru, we have something to appeal to everyone. With this in mind, we also offer a wide array of gift selections for those wishing to share the stones' wonder with others.

There is no denying nature's beauty when it comes to crystals and minerals. Many people display crystals and minerals in their homes, businesses and landscapes. With a vast array of gorgeous stones available, you can add rich color, depth and character to any environment. But stones are more than just objets d'art. As we study the stones, we can rediscover the wisdom of the ancients and experience the invaluable benefits of utilizing the powerful natural healing energy of crystals.

This is the core of our beliefs at TOSOTS.

• Every item is hand selected based on its energy and aesthetics. We do not buy large quantities of bulk rocks.

• We strive to offer individualized crystal readings for the majority of our offerings. We love the stories the crystals tell us as much as you do.

• We display multiple pictures of each crystal from various angles under white light. This allows you to "hold" the piece in your hand and order with the confidence that you will receive exactly the piece you see. We only use stock photographs to show bulk items.

• We prefer to work with the natural energy of the Earth's creations and therefore make an effort to avoid lab created or chemically altered stones.

• We strive to verify the geological and chemical authenticity of the stones that we offer.

• We provide friendly, down-to-earth customer service, whether you have a general question or need help finding the perfect stone.

• We ship worldwide; provide numerous payment options and offer gift services and certificates on request.

Additional services in the Naples, Florida area include:

• Massage therapy, skin care reflexology, Reiki and Gemstone therapy are available. We have offices in Naples and Bonita Springs, FL Seated massage is also available for offices and events.

• Educational classes including Reiki (all levels), Properties of Quartz Family of Crystals, Crystalline Reiki Grids, Reiki and Gemstones, and Sensing Crystalline Awareness.

We know you have a choice of where you shop. So why us? Simply, we love the stones. In a way, they are our children, and we believe each crystal is as unique as you are.


Company History

The Other Side of the Sun started with humble (and innocent) beginnings on eBay under the user ID Talenyn. Back in 1999 we were just dabbling with the internet selling various things here and there. We started off basic, really basic, our first pictures were taken as freeze frames with a camcorder hooked up to a PC! The picture on the right is from one of our first crystal listings! It's a jasper sphere and can you believe we actually sold it! Needless to say things progressed from these simple beginnings and we continued to slowly grow, mainly as a hobby for extra income. Our mainstay at the time was jewelry with some crystals and minerals. One thing led to another as these things do and in August of 2001, Mary went full time selling on eBay.

Our first import of crystals and minerals from Africa was a complete shock to our systems! The entire house was turned into the business. Our receiving area was our formal sitting and area and was covered in rocks! (The cats however thought all the tissue paper was a blast!) We had no idea what we were in for! With this first import we transitioned to selling mainly different types of quartz crystals with a few minerals for variety. Below is a tidied up version of a new shipment of goodies!

Through lots of hard work we managed to obtain Power Seller Status on eBay, with over 1300 unique feedback comments, and 100% positive rating! However eBay took much of our time and harbored a lot of frustrations. We had auctions pulled for minor rule infractions, competing with other sellers who were less than honest with their listings, eBay fees and much more. We were ready for something different, but afraid of making the leap. With much encouragement from friends, family and customers we took that leap of faith to transition completely to the website. Our site has gone through many evolutions, and is a constant work in progress. (For a fun, if not quite accurate snapshot of our site from the past, you can see the internet archive. Please note, these results are not maintained by us) In 2001 - 2002 the website received varying degrees of attention as eBay was still our main focus. However, in early 2003, we began the move from eBay and concentrate on our own website. We are truly grateful for everyone's love and support.

It all started with with an innocent Christmas present. Christmas 2000, Mary's cousin Neal gave us the gift of the a domain name evans-lambert.com. We thought it was neat and kinda cute as it is the melding of our last names. However this little place in cyber space was ignored for many months except for a few personal pages. Then Jennifer had the bright idea of using the web space we had for extra inventory! Thus a website was born. We now tease Neal that this site is all his fault. :-) It's the gift that keeps on giving!